You need inventory management (movable assets) in your activity, Inventory Evolution is the software that suits you. Automate the entry of your products, manage your stocks or make your inventories easily. This comprehensive software offers improved ergonomics compared to its main competitors and more direct access to its most relevant features.
As a result, the Evolution Inventory software is: Ultra-simple to use - the interface is ergonomic: clear and well organized, on one page! Ready to use - no need to go through countless steps before you start! Confidentiality - all your data is on your workstation only or on your server Efficient in - technical support is personalized and available
Characteristics of the stock and inventory management software:
Interface concentrated on a single window.

Fully configured from the first use.

Compatible with: Windows XP, Windows Vista and Windows 7....

Can be installed and used in a local network with MySQL database

Backup and restoration of your database.

Multi-user with a possibility to see the changes made by the latter.

Creation of several inventory registers.

Printing of inventory sheets with 6 filter choices.

Printing of inventory labels.

Export of registers in format (Word, Excel, HTML, CSV and XML).

Help is available for the installation and configuration of the MySQL server.

Creation of a discharge (as a loan, repair etc...).
Saving the allocation history of your materials.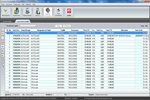 Version

V2.3

Licence

Demo

Editor

Reoleweb
Number of
downloads

965 downloads

Language

Type

Compatibility and Management

Date Created

05/10/2018

Rate this software :