- This software will not only allow you to prepare questionnaires (MCQs) for your children and in addition, allow you to review and improve your knowledge.
- It contains 6 subjects, and it is up to you to create the questions according to the subjects (French, English, history, geography, physics, maths. Science, general culture)
- This software allows you to edit the QCMs and also to test them afterwards.
- You can add as many tests as you want, and delete them when you want (the QCMs are stored in an Access database on your computer)
- it allows you to save a history of responses and scores by candidate name.
- it saves the candidates' first names for one month (no need to retype their first name)
- This software is a good way to participate in the training of your children, to follow your progress in your school level and the opportunity (why not) to spend time with them.
This software is suitable for all grade levels, as it is the question writer who will define the complexity of the questions (and the level).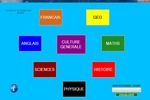 Version

1.0.0

Licence

Shareware

Editor

sav
Number of
downloads

1197 downloads

Language

Type

Education

Date Created

10/28/2015

Rate this software :