This software is no longer available for download.
Back to sub-category MCQ and Student Appraisal >>
Download the free Android Test Results application to your smartphone and tablet, and be the first to discover the results of the college diploma and baccalaureate on the day. Easy to use, this application notifies you of the official publication of the results according to your acedemia. To do so, simply enter your first and last name, e-mail address, type of exam and date of birth. Once the form has been validated, all you have to do is wait for the app to start to see your notes on the Internet.
Examination results proposes the results by academy. In addition to learning whether or not you have passed your exam, you can also view your marks by subject. This is a definite advantage for high school students who are going to catch up since they can use these results to choose the subjects to be taken orally. Obviously, this application is a quick way to see your results but it does not replace in any way only the movement of students to the results centre where they must pick up their report card and especially register for rattrapges, for those who go there.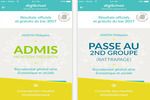 Editor

digiSchool
Number of
downloads

44 downloads

Type

Education

Date Created

06/30/2014

Rate this software :