A small 2D car racing game in three versions.
This game includes 10 courses. You will have 3 lives for each internship.
You must be at least 7th to move on to the next internship.
Windowed or full screen mode.
For full screen, your graphics card must have a resolution of 800 X 600 points.
Different kinds of cars will be present in this game.
You will play against 19 opponents' cars.
Each version of this game (you will have 3 different programs) will have a different track and game effects.
Internships will gradually become more and more difficult.
The first workshop will be particularly easy to play and the tenth one particularly difficult.
It's up to you to find your style of play.
Pleasant graphics and good handling for playing with the keyboard or joystick.
This game can be played with the keyboard arrows or the joystick.
Compatible with XP, Vista, 7 and possibly 8.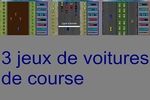 Licence

Freeware

Editor

gambitdame
Number of
downloads

986 downloads

Language

Type

Games

Date Created

10/25/2013

Rate this software :