Mastermind Deluxe allows you to play the famous Mastermind game.
You're playing against the computer. This creates random combinations of
guess according to your preferences.
You can choose the difficulty of the game by changing the number of counters per
line (from 4 to 6) and the number of possible colors (from 6 to 10).
You can also choose whether the combinations can contain
holes and/or color doubles.
The game is translated into 5 languages.
It includes help to know the rules of the game as well as the controls of the
game.
The game is systematically saved when you leave it in order to
resume the current game later.
The best scores are recorded internationally by category.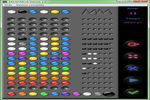 Version

1.0

Licence

Freeware

Editor

m4nn1x
Number of
downloads

397 downloads

Language

Type

Games

Date Created

09/23/2013

Rate this software :