Memory game (4*5 squares), to play alone or with two players. A fun way to teach children to memorize additions from 1 to 10, different letter writing, simple two-syllable words, or even self-dictation, Memorimages can also be an approach to working with people with Alzheimer's disease.
You can customize the cards at will, either by creating image sub-folders or by defining text (letters or numbers, for example) in the font and color of your choice, so that the software automatically generates the game cards.
To create or modify themes, press the F9 key when no game is in progress. in each theme, you must create at least one list, with at least 10 elements, separated by a comma. the first list is mandatory. The second, optional, must contain as many elements as the first: it is used to define the elements to be matched.In each list, you can use square brackets to generate a sequence: : !-[1-5]" will give "1,2,3,4,5", !-[A-E]" will give "A,B,C,D,E".see the file "Memorimages.ini" for sample lists.
Changing font and size is now more convenient than in previous versions. The arrows above the first element preview allow you to test each element to verify that the characters are displayed correctly on the map.
You can also change the default map pattern, by simply modifying the following files: : - "dos_defaut.jpg" (111*111 pixels), - "face_defaut.jpg" (109 * 109 pixels), which will be read each time Memorimages is launched.
This software is a freely available donationware.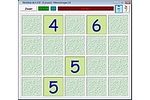 Version

1.91

Licence

Freeware

Editor

HomeWorx
Number of
downloads

867 downloads

Language

Type

Games

Date Created

10/08/2014

Rate this software :