The Battle Royale is in vogue and has even just contaminated the MMORPG, as shown by this Ashes of Creation Apocalypse, which serves as an independent preamble to the online game Ashes of Creation.
The goal of the game, as you will have understood, is to eliminate your opponents so that in the end there is only one left. But unlike other titles like these, you will have to replace projectile weapons and objects with powerful spells and magical powers, and sometimes have to manage a hostile environment. Don't think about taking refuge in a building either, the scenery is destructible and even castles can be attacked.
The rewards earned through Ashes of Creation Apocalypse are also reported in the base game and the Beta version is fully playable.
A new era of the Battle Royale is here, and it is perhaps the MMORPG that will give it a second wind. It's up to you....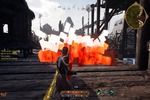 Version

1.0

Licence

Freeware

Editor

Intrepid Software Solutions
Number of
downloads

9 downloads

Language

Type

Games

Date Created

03/11/2019

Rate this software :