If you want to create your ideal family or lead a group of friends who live together in a luxurious villa, then you have a lot to choose from with The Sims 4. Building on the success of the first three components, he placed greater emphasis on emotions. Indeed, Electronic Arts wanted to develop a facet of its license until now little used.
In this way, the Sims will have a wider range of emotions and feelings and each feeling will favour a particular action. For example, a depressed sim will have a better ability to write or paint.
The house building tool has also been revised and is much easier to use, satisfying the wildest ideas in terms of creating a living space.
Expected to be released in 2014, The Sims 4 is to be discovered in the official trailer video unveiled by Electronic Arts.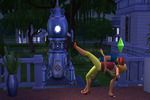 Editor

EAgames
Number of
downloads

351 downloads

Language

Type

Games

Date Created

10/21/2013

Rate this software :