SEGA and Two Point Studios have joined forces to publish a hospital simulation game.
Two Point County is hit by a strange epidemic that replaces the heads of the inhabitants with a light bulb. Various filamental diseases and other bulb infections are also spreading. Faced with these medical cases never before seen, Two Point County opened a hospital, the Clinic-De-Lux, in which doctors had to face its mysterious diseases and the ghosts of their patients. The first patient identified was Trevor who, after a mild cold, woke up with a blister instead of a head.
Two Point Studios is specialized in management simulation games. Two Point Hospital combines hospital management and humour with infinite gameplay.
The game will be available in 2018 on Steam.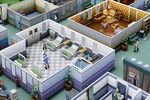 Editor

Two Point Studios
Number of
downloads

259 downloads

Language

Type

Games

Date Created

01/16/2018

Rate this software :