Our selection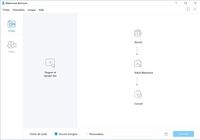 Apowersoft Windows Watermark Remover
Apowersoft's Watermark Remover is a very effective tool for removing watermarks or unwanted objects from an image or video with a single click, while...
Graphics software, to avoid loss of quality of manipulated images
In the field of computer graphics, graphics software (or image editing software, graphics software) is a computer program or a set of programs used to manipulate and process forms, drawings, vectors or images on a computer, possibly via a tablet. An increasing number of these programs are available in open-source (GIMP and Inkscape) and are more complete.
Digital images are often classified into two categories, each requiring a different processing program:
- Raster images (or raster mode);
- Vector images (which can be enlarged without loss of quality)
Many graphics software programs deal exclusively with one or the other of the two graphic modes (vector or raster), but some can combine them in interesting and sometimes unexpected ways. The convertibility of the vector image is easily done in raster mode (rasterization) or in a raster vector image (rasterization), but the opposite is more difficult, in any case, without loss of information. Some software programs try to do this.
Image editing programs specialized in raster (also pixel graphics or so-called bitmap graphics) are made for the creation, enhancement, modification and manipulation of digital images. The main functions of graphic design software are image editing products. Discussed in detail, they are used mainly for image optimization, but also partly for painting programs. Digital painting programs, with specialized functions for this specific purpose, are particularly suitable for the conversion of bitmap drawing technique paying for a plurality of artistic models and features.
Vector programs are used to create drawings or illustrations such as vector graphics. To this end, they offer a helping hand in the possibility of creating simple geometric shapes such as rectangles, circles and lines, but also offer additional possibilities to create complex shapes and gradient effects of colour and transparency without having to bear quality losses.
Most graphics software can create, import, convert, modify and export many file formats. Among the different tools, an active color palette can be selected and rearranged according to the user's preferences. Many graphic design software programs can create animations or digital videos. Vector graphics animation can be described as a series of applied mathematical transformations so that one or more shapes can be integrated into a shot.The raster mode graphic animation frame mode works in a similar way to film animation, in which a series of still images gives the illusion of smooth continuous movement.