Foto-Mosaik-Edda is a rather effective software to create image mosaics very quickly using your personal collection. To do this, simply tell him in which folder the images you want to use are located and the software will do the rest.
Very easy to use, Foto-Mosaik-Edda has a wizard that guides you through each step of launching the software. The program also has various options such as the possibility to choose the resolution of the final image, to choose the shape and size of the mosaics used or to obtain your file in many formats.
It should be noted that Foto-Mosaik-Edda is only available in English, but this does not prevent you from using the software even if you do not have a good knowledge of this language.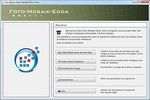 Version

portable

Licence

Shareware

Editor

Steffen Schirmer
Number of
downloads

161 downloads

Language

Type

Graphics

Date Created

02/02/2015

Rate this software :