Our selection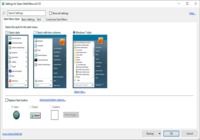 Open Shell
Open Shell is a free software that allows you to find a menu identical to the old start menus from Windows XP to Windows 7 and those under your...
Icons and tuning, to express creatively and freely a personalization.
An icon is a small, small diagram illustrating an action, object, software, file type, etc... They can be in classic format or in binary format. It represents a folder, a software, a file... By double-clicking it, you can access its content. A tuning is for the personalization of your computer.
Icons and tuning software allow you to manipulate, create and edit these magnificent pictograms (icons, cursors, and other small graphic images) with a few clicks of the mouse. They contain image editors using simple tools and filters. We can reduce the icons, retouch them by modifying the colors, shapes, brightness, sharpness. Most software supports Windows and Mac OS X platforms.
These programs can create icons from images, one of the photos or the user's personal creation; and conversely, icon files can easily be converted into image files. Another important function that can be assigned to them is the creation of an icon after the screenshot. Redistribution of icon libraries with an installation program requesting a serial number if necessary is also possible. They can also extract icons from executable files or software libraries. Software can create different file sizes that can be adapted to your operating system or display style.
A software can therefore have several windows allowing direct access to all functions: an icon library or library, a full-size icon view, a zoomed icon view, all tools (pipette, selection, eraser, pencil, brush, paint pot, line), a color palette.
By making your own icons, there is no need to worry about any copyright infringement of existing icons, or to pay for the use of icons that someone else has made. And you can create unique icons to meet all your specific needs.