Our selection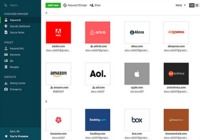 Dashlane
Dashlane is a software that allows you to store all the passwords you need for yourself. All you need to do is memorize the master password and use...
Internet
Finally, software and internet applications. With technological progress, surfing the web is no longer enough. There is now the possibility to navigate more easily and especially more quickly with the software in this "Internet" section. In addition, many software programs make it more accessible to download and retrieve videos, photos or other specific data.
Download accelerators, e-mail, site vacuum cleaners.... are making their appearance. Software created to provide the most comfortable browsing on the Internet. These software can be used for social networks, Youtube or Skype, among others. It is now possible to record calls on Skype in audio and video format with software such as Replay Telecorder or Free Videos Call Recorder for Skype. There are browsers that allow you to create and modify almost all Windows® applications (Dragon Naturally Speaking Standard) "with voice"; and all this with optimal security and a user-friendly interface. And television is no exception; we can now watch television and listen to thousands of radio channels from anywhere in the world and even record their broadcasts.
These Internet Softwares offer a wide comfort of navigation for its user. Those designed for social networks, for example, allow you to chat without using a browser and stay in touch with your friends in any way. Mail applications also facilitate the automatic classification of mails and their programming. This allows us to customize mail flows down to the smallest detail.
In conclusion, Internet software has been designed to meet certain demands in the field of Internet navigation. But beyond that, they offer the possibility of a total customization of the navigation. It should be noted that downloading these software is very easy and most often free.