Gmail or Google Mail is a popular mailbox with a very easy to access login interface. This version is the browser accessible version, just click on the button to get to the right page and access its archived messages.
The Gmail Account is also used for Google Plus, Youtube, Google Docs and the whole galaxy of Google products to use for free. To connect to Gmail, it's easy, all you need is the address and password. It will also be possible to add a telephone number for double identification.
Essential to enjoy the Google ecosystem. More webmails on our article!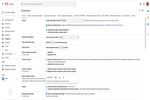 Version

2

Editor

Google Tld
Number of
downloads

181 downloads

Language

Type

Internet

Date Created

11/02/2015

Rate this software :