Skype is a very complete instant messaging software promoted by Microsoft.It can be used for several purposes that you would prefer text conversations or voice discussions with video.
Very user-friendly, and intended for a public of individuals or professionals, you must have a Skype account or a hotmail or outlook account to find all your contacts.
After that, you can customize your profile by choosing a profile image or by setting a nickname of your choice.
The software supports the transfer of documents to your contacts and emoticons. You can easily switch between several conversations and from a text discussion to a video conference.
In fact, help is triggered as soon as Skype is installed to allow you to configure the webcam.
Completely free of charge, it has premium features allowing those who wish to make calls to mobile phones or abroad by purchasing credit.
We recommend that you take a look at this other article on Skype for Windows.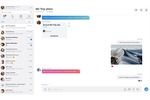 Version

7.41.101

Licence

Freeware

Editor

Skype Technologies S.A.
Number of
downloads

2805 downloads

Language

Type

Internet

Date Created

06/28/2005

Rate this software :