Our selection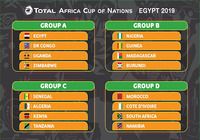 CAN 2019 - Groupes PDF
The groups of teams qualified for the 2019 African Cup of Nations finals in a PDF document.
Leisure and family
The software in this section is a real revolution for every member of the family. We find all types of utility and leisure software; from gastronomy to driving, including software on cars, food, religion, DIY... without forgetting the preferences of each individual and each generation.
Lovers of the environment, keen gardeners, these software programs are an excellent find and offer a faithful accompaniment in the accomplishment of certain tasks or particular desires. With software such as ANIKOP MY GARDEN 2009 for example, it is possible to follow your garden from seed to harvest; this will allow you to organize the garden in your own image thanks tothis to the creation tool; list your purchases concerning gardening, archive photos and even follow the evolution of each plant with the dashboard and more....
In the same section "family and leisure, these software also offer us entertainment to experiment with, such as the broadcasting of GPS data in real time or delayed, naval architecture such as the Echo Software. Otherwise many 3D applications where you could create your own little world in action, for example for Valentine's Day (Flying Valenting Screensaver), or the organization of your wedding (with POINKA My Wedding).
The interfaces have been worked on to make the use of these software simple and efficient. All domains are accessible and these softwares wonderfully accompany the user in the very evolution of his activity. Believers or documentation buffs, many applications will spare you long searches and trips to the bookseller - Bible Reader, where you can access the chapter you are interested in with a simple click and also turn the pages...
In conclusion, the software in the Family and Leisure section is ultimately an essential aid and support in everyone's daily life. Downloading them becomes easy and no longer takes as long as many other software.