Software for fast entry and search of quotations and proverbs.
Entry of the authors with photo, biography, occupation, nationality, dates of birth and death, internet link to more information.
Entering citations by author and theme.
Proverbs entered by author and theme.
The professions, the themes, the nationalities are configurable.
A counter allows you to track the number of entries by nationality, by profession, by author, by theme.
The counting is done on the number of citations and the probverb number.
The search is done by entering keywords that allow a search by multiple criteria (author's name, nationality, theme, words contained in the quotation or proverb, profession).
Simple content tracking software that can evolve according to modifications made by the author or requests made by users.
The license is final, with no subscription or additional cost in the event of evaporation of the version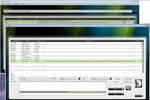 Version

1.2

Licence

Shareware

Editor

Deismo
Number of
downloads

53 downloads

Language

Type

Leisure and Family

Date Created

09/30/2015

Rate this software :