From the conception to the edition of your family's genealogy with Généatique 2019
Get to know your family better thanks to Généatique 2019, which helps you to set up your family tree in no time. To do this, you will need to introduce your family members one by one. The software has an easy-to-navigate interface that divides the screen into two parts: one for the graphic part and the other for the input mask. The ideal is to start working from ancestors to close with the current generation.
Build a database on your family members with more than detailed information taking into account photos, videos and Sosa-Stradonitz numbering. With Généatique 2019, you would benefit from a multitude of features and options, improving the design of your family's genealogy. Indeed, several genealogy models are available in the software with the desired colors and various backgrounds. From now on, you would no longer be able to miss in the search for a loved one from your large family.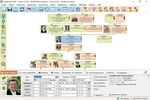 Version

2019

Licence

Shareware

Editor

CDIP
Number of
downloads

8504 downloads

Language

Type

Leisure and Family

Date Created

09/18/2013

Rate this software :