SmartGenealogy is a genealogy program that allows you to create person records with dates and places of birth, marriage and death and for most other life events, as well as record the sources and repositories where you found the information. You can also include photos or indicate multimedia files.
Smartgenealogy can easily add events to individual records: They will then automatically appear in that person's history. You can create, open and destroy genealogical databases, import Gedcom or Excel files, export your databases in Gedcom format or as Excel files, print, search for duplicates, use a perpetual calendar or notepad and create a back-up of your databases as ZIP files.
You can also automatically create a website with your databases.
- Export of data in PDF format (Adobe)
- Export of the 8-level family tree as Jpg or Bmp files
- Descending family tree (with navigation)
- Three memory locations to save locations in the tree
- New tab for statistics
- Chronogram
- SmartGenealogy can process large databases (more than 10,000 records) with excellent response time.
Also available on the website: - A version for small screens (800 x 600 or less) - A utility for merging genealogical databases.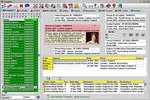 Version

3.0

Licence

Freeware

Number of
downloads

13968 downloads

Language

Type

Leisure and Family

Date Created

09/16/2005

Rate this software :