AstroDom is a standalone application included in a single file without installation running under Windows Excel. It will allow you to know the weak points and the most important interests of the people studied.
Native theme, special energy sky chart, comparisons, graphs and analyses. AstroDom, a tool specialized in planetary dominants, will be just as useful to beginners as to specialists.
AstroDom also allows you to export to Excel format for a person's data from the free (*)Astrocycle software and the Astrothème.fr or Astro.com websites.
AstroDom for the beginner or expert will be very useful to them because they will be able, thanks to the function of presenting the results in text and graphic form, to encompass at a single glance the main character traits of the subject of study.
AstroDom gives a relative strength to all the elements of the theme: strength of the planets, induced strength of the houses and the signs they cross and takes into account for the calculation, the masters, the home, the strength of the aspects, the proximity of an angle where between 2 houses or between 2 signs...
V1.1 includes printable texts for introduction to astrology (*)Astrocycle, Astro.com(Astrodienst) and Astrothème.fr are registered trademarks of their author. AstroDom is independent of them. (other author's software on this site AstroPalais, Astro-Yiking, and Astro-Lame)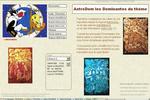 Licence

Freeware

Number of
downloads

7977 downloads

Language

Type

Leisure and Family

Date Created

08/13/2006

Rate this software :