Biorhythm claims that humans are subjected to three metabolic cycles at the precise moment of their birth (physical, emotional and intellectual).
Enter the person's first name and date of birth to display the dates, curves and ellypsis of the person's biorhythm over the next 30 days. With a simple click, switch from the curve graph to the average curve graph.
In order to be able to carry out a previous and/or subsequent study, the possibility of changing the starting date of the calculations is of course proposed...
The printing of these curves is obviously possible.
Once the calculation is complete, the list of positive and negative days is displayed in the form of menus for sensuality, sport/study, driving, luck and critical days.
A mini course on biorhythmics is available on the software, which will allow you to better understand these different calculations.
This software does not claim to direct your opinion, just to warn you of good and bad days.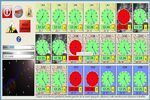 Version

2.6

Licence

Shareware

Editor

gaillard
Number of
downloads

90 downloads

Language

Type

Leisure and Family

Date Created

01/25/2016

Rate this software :