This software is no longer available for download.
Back to sub-category Photo Albums >>
Free of charge for you.... Have a management software for your photos. Forgot the names of the people, dates or location of the photo? Album Burger always remembers it. You don't remember which of the albums you put a photo in? Find it thanks to the integrated search engine. With a simple click of a button, you can import an image scanned by your scanner or take a picture via your webcam. Send a photo or album page to a friend by email. Fix defects in your photos, rotate them, resize them, and more. With Album Burger Photograph 2007, you will have the opportunity to create web galleries of your photos without any technical knowledge. You can view your photos in full screen and one by one. You will be able to export or import albums into a single file. An image bank for the backgrounds of your pages and more than 100 frames are provided. The print manager supports the majority of photo formats. Most importantly, a utility for managing the backup copy of your precious albums is integrated into the software. It is ergonomic, easy to use and fun - of course, it's free and advertising-free! This product is developed by a group of volunteers and is developed with the comments and suggestions of users left on the website.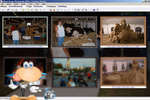 Licence

Freeware

Editor

Album Burger Photograph
Number of
downloads

2144 downloads

Language

Type

Leisure and Family

Date Created

10/31/2006

Rate this software :