Our selection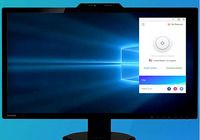 UFO VPN
UFO VPN is a VPN software that allows you to protect your privacy, easily access geographically blocked content and choose your virtual location.
Network
Team leaders, technicians, or simple users, it has always been a delicate task to manage a network on one or a few platforms; The software in this section will certainly bring us almost total relief, as for network management and development.
Telnet and terminal programs are often used to facilitate access to each network user's workstation, or to intervene directly, as is the case with Anyplace Control, which displays the screen of the workstation to be controlled on yours. This allows you to use the mouse and keyboard as if it were your PC. For a better management of the network we have the control tools; which allow for example to close the internet connection for you on one workstation or another. Otherwise, for those who cannot do without the Internet, these programs can be programmed to automatically stop a current connection (Close Internet). Or software such as CyberPro to manage access to computers, by prepaid coupons, no need for a dedicated server.
Very interesting for professionals, Ping software alone answers insurance requests regarding security and flow management. There are Ping tools that monitor connections and detect losses; they can also restore events. The user thus benefits, with LanAlertCenter for example, from a monitoring tool offering several analysis methods: presence of a machine on the network, accessibility of a share, accessibility of a database (all types), status of a network printer, status of a service...
For mobiles, it is also possible to intervene directly by bluetooth, transfer your video and audio files, ringtones and images to different types of mobile devices such as mobile phones (AVS Mobile UpLoader). These software programs that make it real, reduce and facilitate the task of the network manager, and many of them are free to download and take much less time to download.
Network software is very necessary to properly manage, almost without loss, all data flows or the connection even on your network. They make it possible to manage the entire network operation, to intervene in it, or to customize the data flows in connection. Professionals and individuals will find their satisfaction in the reduction of the tasks of managing their network.