Our selection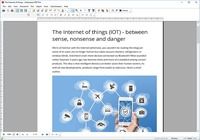 Ashampoo PDF Free
Ashampoo PDF Free is a free software that allows you to read and create PDF files. It offers an interface that is inspired by word processing tools...
Office software for Windows to download? We provide you with hundreds of them, including Office office suites and all the existing word processing and spreadsheet tools.
Software for the office but also for the home
Office automation is not just about professionals. Many individuals require an office suite in their homes to write letters, make presentations, prepare budgets using a spreadsheet or receive emails. Office automation is a real range of tools designed to work, but also to help the user in the realization of his personal projects.
Office automation, dominated by a publisher
Microsoft has been leading the market for several decades with its Office suite. Unstoppable, it has since been declined in several versions, one based on the historical model, the other on a "Cloud" model that has evolved with the needs of users. They are therefore two identical versions in use, but intended for two different audiences and designed to converge over time.
The competition is there
But even if only one publisher flies over its competitors, there is still room for the others and many software publishers offer either office automation suites or very advanced unitary software (word processing, spreadsheet...), free or paid. It goes without saying that many people try to make the most of it by offering less advanced solutions, but which cost a fraction of the price of an Office product for example.