Save money by managing your accounts and budget with this fully automatic Excel application.
Entering transactions (income and expenses) is fast, simple and intuitive. All you have to do is click on buttons and fill in the forms provided.
There is no data to fill in in the Excel sheets.
You can quickly access all the postings for a given month.
Many graphs and summary tables are available (breakdown of income and expenditure by category, evolution of the balance and its variations, annual balance sheet).
The annual report presents in graphical and tabular form the revenues and expenses by category for all months of a given year.
For added security, it is possible to enable a double backup function of the Excel file (in the current path and in another directory, for example a network or external hard disk).
You can also protect the file with a password.
It is necessary to enable macros the first time the file is opened.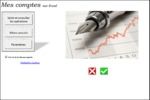 Licence

Shareware

Editor

Marquenet
Number of
downloads

768 downloads

Language

Type

Office Automation

Date Created

07/24/2018

Rate this software :