DriverPack Solution offers you a way to automate the process of finding and installing drivers for your computer, which greatly simplifies the task of keeping your drivers up to date. Two versions exist, a complete one that fits on a DVD and updates absolutely all the drivers of the machine, or a light one that takes care of the standard updates.
In any case, a must.
An exhaustive list of pilots
Driverpack works like a huge database of drivers and software that will compare those installed on your computer to the one stored in the software. If necessary, which may not be the case, Driverpack can download a more recent version of the update and install it instead of the existing one.
In any case, it is the user who decides on the best option and will choose the time of update.
A backup disk
DPS also serves as a backup disk. Indeed, after a Windows reinstallation or a problem, you will have everything you need to complete the system update without having access to the Internet. That's why many convenience stores use a DriverPack Solution backup disk in their toolkit.
Some resellers do not hesitate to sell copies of the software, burned on DVD, while the download is free. This is a sign of popularity.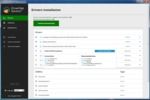 Version

17.9516

Licence

Freeware

Editor

DriverPack Solution
Number of
downloads

38491 downloads

Language

Type

Utilities

Date Created

04/13/2010

Rate this software :