Dreamcast emulators are few and far between and that's a pity, because Sega's console, which was a semi-failure, still deserves to live in memories, but also on screens. This 128-bit console was considered at its time as the only one capable of competing with the Sony PS2... But too many risks precipitated its destiny towards a fatal end.
However, pearls in all genres have emerged during the machine's short existence: Shen-Mue, Grandia 2, Phantasy Star Online, Crazy Taxi, Jet Set Radio, Power Stone or Ready to Rumble... Enough to keep gaming enthusiasts busy who didn't have the chance to get their hands on the console when it was released, or who simply want to complete their title collection.
So here's something to play with. A full-fledged emulator, who runs royalty-free titles, technical and other demos and of course all the original games you own (laughs).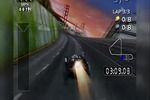 Version

0.5

Licence

Freeware

Number of
downloads

169 downloads

Language

Type

Utilities

Date Created

04/11/2019

Rate this software :