Duplicate Media Finder (DMF) is a software that allows you to find, view and manage all your files present in several copies on your computer, the devices connected to it and on your network/NAS.
It allows of course to make comparisons in order to find strictly identical files, but one of its particularities is to be able to identify similar files without being identical.
This is only possible for multimedia files such as photos, sounds and videos.
Thus DMF will be able to find photos in different formats (.RAW,.jpg,.tiff, ...) or having undergone distortions or 2 photos taken at a few seconds intervals... Similarly, DMF will be able to find your audio and video files for example in different formats (mp3/wma/ac3,... mp4/mkv,...).
It can also scan devices connected to your PC such as smartphones (Android, iPhone,...) and the cloud.
You can of course refine your search by using additional search criteria such as name, file extension, photo/video resolution,...
Last but not least, DMF displays thumbnails for each duplicate found. This way you will see the cover of an mp3 file, the image of a photo, an image of the video or the content of a pdf or doc word.
You can use automatic selection of duplicates (according to your defined criteria) or manual selection. All you have to do is delete these duplicates.
Duplicate Media Finder has been programmed to take advantage of the new multi-core processors. It also has a cache memory that allows it to be extremely fast.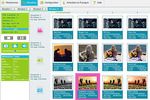 Version

5.007

Licence

Demo

Editor

KDO-RG
Number of
downloads

395 downloads

Language

Type

Utilities

Date Created

07/12/2017

Rate this software :