- OtoCopy allows you to save your documents as soon as they are modified on a USB key, an external disk or on the network. OtoCopy makes a backup of your working folders in real time or delayed time. If your USB backup key is not present at the time of the modification of your documents, OtoCopy, keeping a record of your changes, will perform the backup as soon as you have "plugged in". your USB key again. Each user can select independently of other users the folders to synchronize.
- OtoCopy also allows you to keep a history of the changes you have made. Thanks to a careful naming of the copies made, OtoCopy will keep the history of changes on a chosen number of copies to keep.
- With OtoCopy you can also compare two folders to identify differences. In this way, OtoCopy synchronizes, in record time, the folder to be backed up with the storage folder. OtoCopy allows you to refine the files to synchronize (compare) by selecting the file extensions concerned or not, the hidden files or the most recent files. To avoid backing up too much data, OtoCopy allows you to ignore some files according to their occupancy size. Simple and efficient, OtoCopy can help you avoid embarrassment for not saving your documents quickly enough...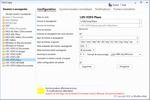 Version

2.10

Licence

Freeware

Editor

Morillon A.
Number of
downloads

276 downloads

Language

Type

Utilities

Date Created

04/20/2015

Rate this software :