Our selection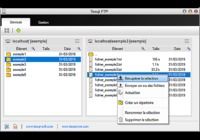 Tesuji FTP client
Tesuji FTP software is a simple and free FTP client, very easy to implement with a customizable dashboard offering the classic FTP functions.
Webmaster
Webmaster" software, whether creators of websites or simple amateurs, is a real necessity for the wide range of functionalities it offers. From design to referencing, these software easily support webmasters in their daily tasks. These programs are recognized as useful in the creation of websites.
In the AJAX sub-category, we find the ease of making dynamic WEB pages in interaction with the server (GET and POST methods are supported to load documents or place orders asynchronously). Free.NET libraries are also available to remove the complexity associated with developing AJAX websites. Others, such as the Pluginbddra, also allow site visitors to modify the layout of the display window as they wish, of the ticket loaded by an AJAX routine.
For online shops, some secure software can help create and manage websites for small and medium-sized businesses, fully customized to the nomenclatures of each of them... downloading orders, tracking orders, payments, shipments, etc.. Platforms of this kind - for e-commerce, are very effective in creating a complete online store with many different modules to manage everything from catalogues to payments and more.
We also have log file analysis software that provides vital and complete information on your website: traffic, visitor activity, search engines, errors and more. The quality of these software is undeniable, namely the speed of execution, the customizable configuration compared to the creation of columns, and many other details about search engines and referrers.
It must be said that it is possible for anyone who wants to create a website or a program to do so easily, thanks to these software for Webmaster because they support the creator, from the design to the referencing of his website. These software and utilities are now used by most webmasters around the world, and are very easy to download.